The Macaron Menu
Macarons are delicate pastries, a sweet meringue-based confection made with finely ground almonds and filled with a ganache, buttercream or confiture (fruit preserve). We craft our macarons just like the French, only the finest ingredients are whipped and piped by hand. We love experimenting and concocting new flavours based on what is seasonally available or custom requests. We offer 27 different flavours and each month we create a new and exciting macaron for that month.
How to order your Macarons:
1. Decide how many macarons you would like (this can be tricky).
2. Choose your macaron flavours (make sure to check out our Flavour of the Month)
3. Choose your box.
4. Enjoy!
Prices:
One (1) macaron: $7.50
Two (2) macarons w/ box: $20.00
Six (6) macarons w/ box: $50.00
Eight (8) macarons w/ box: $65.00
Twelve (12) macarons w/ box: $80.00

---
1. How Many Macarons would you like in your box?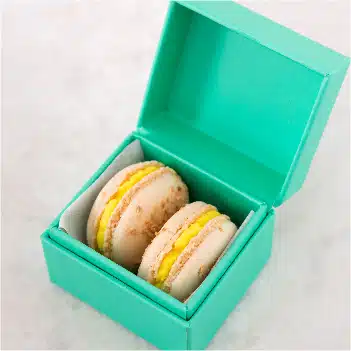 Box of 2
$ 20.00
Box of 6
$ 50.00
Box of 8
$ 65.00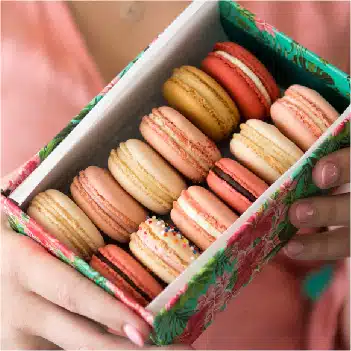 Box of 12
$ 80.00
Berry Cobbler
Bursting with a fruity homemade triple berry jam in the center, together with a vanilla sponge cake and our creamy and light buttercream filling. Topped with crispy vanilla wafer crumble.
Dulce de Leche
Rich and creamy dulce de leche blended into a fluffy buttercream and filled with even more dulce de leche in the centre!
Cotton Candy
Freshly whipped buttercream with a cotton candy flavour.
Reece's Pieces
Authentic Reece's Pieces candy blended into a creamy milk chocolate & peanut butter ganache.
Oreo Crème Egg
Milk chocolate covered macaron with a cookies n cream ganache in the centre.
Peeps Marshmallow
Our freshly made vanilla marshmallow filling with a white chocolate ganache in the centre.
Mini Egg
Milk Chocolate ganache blended with mini egg pieces and decorated with more mini eggs pieces on top!
Rainbow
A colourful classic buttercream.
Birthday Cake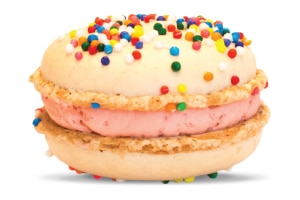 Birthday Cake
Cherry Cheesecake
Coconut
Coffee
Cookies & Cream
Cotton Candy
Currently unavailable
Crème Brûlée
Dark Chocolate
Double Fudge Brownie
French Toast
Currently unavailable
Key Lime Pie
Currently unavailable
Lavender
Lemon Curd
Milk Chocolate
Currently unavailable
Passion Fruit
Pistachio
Raspberry Buttercream
Red Velvet
Rose
Salted Caramel
Salted Caramel Cheesecake
S'mores
Tiramisu
Currently unavailable
Vanilla Bean
Classic Stripe
12 Macarons
Hibiscus
12 Macarons
Monkeys
12 Macarons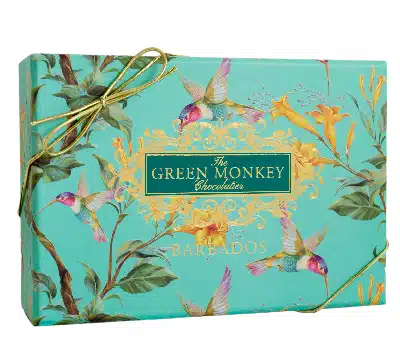 Hummingbird
12 Macarons
Seashells
12 Macarons
Rose
8 Macarons
Currently unavailable
Paisley
8 Macarons
Classic Stripe
6 Macarons
Tropical Pineapple
6 Macarons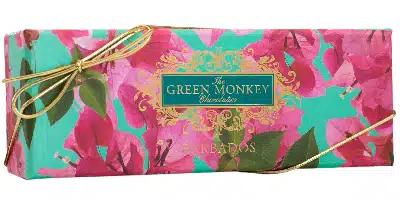 Bougainvillea
6 Macarons
Flamingoes
6 Macarons
Damask
6 Macarons
Classic
2 Macarons
Currently unavailable